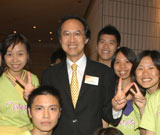 Music, language of the soul, it warms our hearts and lifts our spirits. Creative young musicians will find their own medium - be it hip-hop, jazz or classical and The Hong Kong Melody Makers our budding youth choir, have chosen song, in all its glorious variety. They will be performing next week and we hope the entire community will share their joy and inspiration. Click here to read more...
"Establishing this choir has been both a challenge and a pleasure. I am looking forward to the first concert with great expectations and optimism."
Prof Chan Wing-wah, Chairman, Advisory Committee to the choir.