Charity Ride to bid farewell to the Edinburgh Place "Star" Ferry Pier
Hong Kong Jockey Club Charities Trust and Innovation and Technology Commission sponsor LEAD
Toys

Us Shop Assistant YWETS Trainee Programme
Pompidou Centre Masterpieces: free visits for young people
New publications from
Youth Business Hong Kong
The Federation has recently released two titles in the Youth Entrepreneurship Series: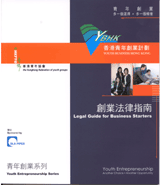 Legal Guide for Business Starters
The guide was prepared with help and sponsorship from DLA Piper and offers practical advice on legal matters for young businesspeople. It includes company incorporation, employment contracts and negotiating leases as well as protecting intellectual property.
Enquiries: Ms Louisa Lau of YBHK, tel 3113 7999.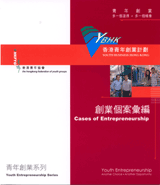 Cases of Entrepreneurship
This contains details of 15 entrepreneurial projects set up by young people with help from YBHK. We hope these accounts will give inspiration and encouragement to other potential start-ups.To obtain free copies, please contact Ms Louisa Lau of YBHK, tel 3113 7999.

The spirit of free enterprise

The first steps in taking on a new business enterprise are daunting. They require firm resolve, buoyant optimism and, in Hong Kong, a sheer will to survive in the face of competition. All Hong Kong youngsters who make the decision to take those steps need as much help and encouragement as possible and deserve every recognition for their success. Success means they have been innovative, have personal and financial integrity and have shown that special flair required to identify and occupy a niche in the market.


The Federation believes that the rewards for such success are not only material. They can be emotionally uplifting as well, as this week's Feature Story about an award-winning young Kenyan businessman shows. Some entrepreneurial success stories involve fighting against extraordinary odds. Winning against these odds requires community support, the involvement of members of the business sector as guides and that remarkable dedication and determination needed to make an imaginative dream come true.

*Hong Kong young entrepreneurs will be in contention for future awards like this. They are supported by HKFYG's Youth Business Hong Kong (YBHK) programme. For more on YBHK please click here or see issue 86 of this e-newsletter or contact Louisa, tel 3113 7999.
Feature Story

Waste not, want not, a young Kenyan's story.

The first ever Entrepreneur of the Year Award was made last week by Youth Business International (YBI), with nominations from India, Sri Lanka, Barbados, Kenya, Argentina, Scotland and Canada. It was part of the YBI Global Conference, hosted by the Federation. The award went to Zablon Karingi Muthaka, a resourceful 26-year-old Kenyan who runs an environmentally aware waste collection business in Nairobi, where the lack of a systematic municipal garbage collection service means piles of rubbish on every street corner. Read on to find out more...
Upcoming events
Farewell to Star Ferry's Central Pier-A snapshot for charity
Date: Saturday 11 November 2006
Time: 10am-10pm
Venue: Star Ferry's Central Pier
Simply donate HK$20 or more to the Federation and you'll get a photo to keep as a memento of the closing of the original pier. Choose any of our pre-set frames and your photo will be ready within a few minutes. Do come and support us. See you there!

Heart to Heart Project 2006-07
Organizer: HKFYG's Youth Volunteer Network (YVN)
Aims:
to link schools with corporate bodies in volunteer work
to foster youth volunteerism in Hong Kong
to give public recognition to supporting schools and companies
Enrollment from schools and companies is now welcome.
For more information on applications and deadlines, contact the Youth Volunteer Network, tel 2169 0032 or click here to learn more about the Project.