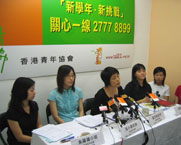 The new school year begins in September and there is an air of anxiety, particularly amongst parents, for those young students who will be making their way from primary to secondary school. Teachers and pupils are also anxious about how the transition from primary to secondary school will affect some students. Not only will the new students have to contend with new schools, new class mates, subjects, time tables and teachers, they will also have to learn how to manage their time more effectively in order to keep up academically. The Federation is here to help.
Not every student can stand these pressures. Youthline 2777 8899 held a press briefing this week, where Federation staff discussed adjustment counselling, teachers spoke about school support programmes and students shared their own experiences of preparing for the transition. The Federation's Youthline 2777 8899 is there for anyone who needs help. All students are encouraged to call and speak to someone who can help.
To see Youthline's hot tips, visit www.u.21.org.hk
Contact Ms. Nancy Poon Man-ying on telephone 2395 0161 for more information about the Federation's counselling services.